Boat races in Kerala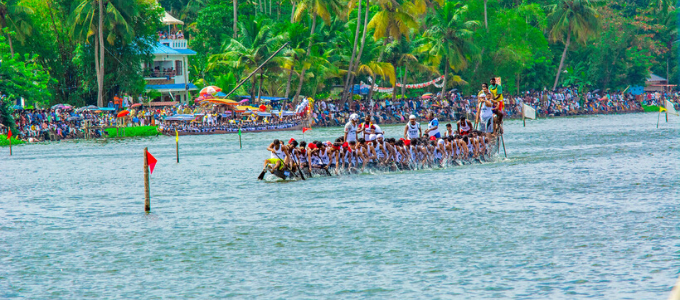 Boat races in Kerala, typically known as Vallam Kali among the natives of Kerala, is a backwater sport that gives an eye-catching view to the tourists who visit God's own country. In Kerala, snake boat races take place every year. Vallam Kali or the boat game was an earlier means to settle the disputes among former kings of different regions. As time passed, these boat races are of great tourist attraction. Every year from July to November boat races are conducted across different backwaters in Kerala. 
Boat races are canoe races that use paddled war canoes, with around 90-110 rowers on board. They are carried on during the autumn season, the season of harvest festival Onam, across the Alleppey, Kollam, Thrissur, Kottayam, Pathanamthitta, Ernakulam waterways of Kerala. One can easily reach the boat race venues as Cochin airport is a common point to all these places.
Chundan Vallam or Snake boats?
Known as Chundan Vallam or Snake boats resembles that of a snake moving through the waterways. Chundan Vallam is the biggest water vessel used for sports purposes, which are 30-35 meters long. They have its rear portion raised to a height of 20 feet, which resembles that of a snake with its hood raised. Each snake boat belongs to each village, and the competition is among these villages. The villagers considered these boats as a sacred thing. It is said that the technical methods of construction of snake boats are 650 years old. The oldest model that is still in use is the Parthasarathi Chundan. The other types of boats available for boat races are the Odi Vallam, Veppu Vallam, Vadakkanody Vallam, Kochu Vallam, Churulan Vallam, Iruttukutty Vallam. 
Vanchipattu 
Along with the Vallam Kali, the Vanchipattu is also unique with these boat races. Vanchipattu is a poetic form in Malayalam that has its rhythm similar to the rowing of a boat. It was brought out by Ramapurathu Warrier, who was a poet in old Travancore. The oarsmen along with others sing loudly the Vanchipattu and that gives them extra energy to row through the backwaters. 
The backwaters of Kerala are the perfect host for Snake boat races and these 8 best boat races you should never miss in Kerala.
Nehru Trophy Boat Race:
The Nehru Trophy boat race is the most famous boat race held in Punnamada Lake near Alappuzha. Alleppey is very famous for this boat race. Every year this boat race takes place on the second Saturday of August. The Nehru Trophy boat race began in the year of 1952 when the former prime minister Jawaharlal Nehru visited Kerala. As he got impressed by the boat races arranged to welcome him, it was he who donated a silver trophy in the form of a snake boat to the winners of the boat race. Later these boat races were organized every year. 
Boat races are always a spirit for the villagers of Alappuzha. Each village forms a team, and the competitions are between these villages. The boats that are 100-120 feet long carrying 90-110 rowers move like a snake across the racecourse of 1.4 km (0.9 miles). The villagers will be in a highly competitive spirit encouraging and cheering the rowers. 
Karichal, Nadubhagom, Paayipaadu, Kaavalam, Alapaatu, Anary, Cheruthana, Aayaparambu, Karuvatta Puthen Chundan, Champakulam, Karuvatta Sree Vinayakan, St. George, Jawahar Thaayankari, Devas Chunda, Vallamkulangara, Valiya Divanji, SreeGanesh, Paarthasarathy, Ambedkar, Kallooparamban, Mutteal Kainakary, Illikkalam, Vadakke aattupuram, Kattil Thekkethil, Gabriel and Aayaparambu Valiya Divanji are the famous Chundan Vallams from different regions that compete across the backwaters for the Nehru Trophy. 
In 2019 the Nehru trophy boat race was held on 10th August with Sachin Tendulkar as the chief guest. In 2020, the Nehru Trophy Boat race will be on August 8th based on the Department of Tourism, Kerala. To witness this great boat festival in Alappuzha, the tickets can be booked through online services available.
Aranmula Boat race:
Aranmula Uthrattadi Vallamkali or the Aranmula boat race is the oldest boat festival in Kerala, that relates religiously. This traditional boat race takes place during Onam. Aranmula is a village that is located along the banks of river Pampa in the Pathanamthitta district of Kerala. This village is famous for the Sree Parthasarathy Temple, which is around 1700 years old and is dedicated to Lord Krishna and Arjuna. The snake boat race festival is hosted every year as an offering on the birthday of Arjuna. 
The Pampa river is the venue for the boat race, the banks of Pampa will be full with an excited crowd gathered to watch the boat race. The boats are known as Palliyodams, the unique snake boats of Aranmula. They will have oarsmen dressed in white mundu and turbans, singing traditional Vanchipattu (boat songs). The boats decorated with golden laces belong to different 'karas' (regions) over the banks of Pampa. The Aranmula Vallasadya is another attraction of these boat races. The 'sadya' or feast is served to the oarsmen of snake boats at Parthasarathy temple premises that include rice with more than 45 side dishes. 
In 2019 Aranmula Boat race was held on 15th September and in 2020 Aranmula boat race will be on September 4th. 
Champakkulam Boat race:
The Champakkulam Moolam boat race, the oldest yet famous traditional boat festival in Kerala. It is held at the Pampa river at Champakkulam, close to Alappuzha. This boat race kick starts the rest of the boat races and is found to be the first race during the monsoon season. Champakkulam Moolam boat race is organized on the moolam day of Malayalam month midhunam to mark the day on which Lord 
Krishna's idol was brought to Sree Krishna Temple at Ambalappuzha. 
The boat races will be arranged at different stages for different categories of boats. The lake will be made more attractive by the colorful boats covered with umbrellas and there will be artist groups performing for Lord Krishna atop the boats. 
On 15th July 2019, this boat race was held across the Pampa river and in 2020 Champakulam boat race is scheduled for 4th July.
Payippad Boat race:
Payippad Vallaarattu or Jalotsavam is a three-day water festival conducted across the Payippad lake every year. This water festival is closely related to the Sree Subrahmanya Swamy temple. The villagers were planning to build a temple in Haripad village wherein they would install the idol of Subrahmanya, which they would find under some whirlpool of Kayamkulam lake. When they found the idol, it was brought to Haripad in a boat escorted by many boats rowed by the villagers. The boat races, thus commemorate the stories related to the installation of the idol of Subrahmanya.
The Payippad snake boat race is scheduled to be on 2nd September of 2020, in 2019 this boat race was held on 13th September.
Kallada Boat race:
Another famous Vallam Kali or snake boat race is the Kallada Jalolsavam held on River Kallada at Munroe Thuruthu after the 28th day of Onam. With the thick coconut groves along the banks of the Kallada river, Munroe Island offers a picturesque view that attracts a lot towards it. Near the Munro Thuruth and West Kallada, the river has a straight course, known as Nettayam over where the Kallada Jalolsavam takes place every year. The beauty of Munroe island adds to attract people in witnessing the boat race. The race is arranged for Snake boats and it also includes Iruttukuthi and Veppam boats. The winners will be given a trophy and a cash prize of Rs. 1 lakh. 
Kallada snake boat races took place on 16th November of 2019. In 2020 it will be held on 29th September, the 28th day after Onam.
Sree Narayana Jayanthi boat race or Kumarakom Boat race:
Kumarakom snake boat race or the Sree Narayana Jayanthi boat race is held during September at Kumarakom. It is marked as a day to remember the visit of the social reformer Sree Narayana Guru at Kumarakom to ordain an idol of Sri Bala Subrahmanya Swamy at Kumaramangalam temple. He was welcomed by the people with great celebrations and processions. So from the past few decades, boat races are held on Sree Narayana Jayanthi. Along with boat races, there will be processions with various dance and music performances like Thiruvathirakkali, Theyyam, Kolkkali, Nadaswaram, and Panchavadyam, etc. 
There will be more than 1,000 oarsmen rowing boats across the Kumarakom lake. Different types of boats participate in the race, that includes the Iruttukuthy, Chundan, Churulan, and Veppu Vallam. Among this more importance is given to Iruttukuthy boat races that have around 50 oarsmen rowing the boat. The winners of the Iruttukuthy boat race will be awarded the Sree Narayana ever-rolling trophy. 
President's Trophy Snake boat race:
One of the famous boat races celebrated on the occasion of Kerala Piravi (the birth of Kerala State) is held in November on Ashtamudi Lake of Kollam District, Kerala. The oarsmen uniformly row the boats with the fast-paced rhythm of Vanchipattus through the racecourse of Ashtamudi lake surrounded by hundreds of spectators. The race track of 1250 m starts from the water column near Thevally Palace and ends at the houseboat terminal. The races are categorized into 5, one for the snake boat or the Chundan Vallams, 2 grades for the Veppu Vallams, and 2 for the Iruttukuthy Vallams. The winners will be awarded a gold plated trophy plus Rs.10 lakhs cash prize.
On following certain traditions the date of boat races in Kerala can vary, in 2019 the President's Trophy boat race was held on 23rd November.
Marine Drive Boat Race:
The Champions boat league organized by the Kerala Tourism department performs champions boat races every year from August to November. One such boat race is the Marine Drive snake boat race. A lot of people gather to witness this great event. As Marine drive is a tourist spot in the heart of Kochi with its unique picturesque attracts a lot and thus the boat races hosted here are quite famous among the people. The 1.3 km long race course starts at Goshree Bridge and ends at the Marine road boat jetty. In 2019 the Marine drive boat race was held on October 5th. 
Apart from all these, there are also boat races held across different regions of Kerala. Triprayar Boat race and Kandassankadavu Boat race in Thrissur, Pampa boat race in Neerattupuram, Thazhathangadi boat race at Kottayam, Piravom boat race in Piravom, and Gothuruth Boat race along the Periyar river in Ernakulam are few among them. 
In Kerala, boat races are scheduled by following the Malayalam calendar based on certain traditions and customs and thus the dates can vary accordingly. 
Reach Kerala Boat Race venues in Alleppey:
How to reach Alleppey from Ernakulam?
As Alleppey is located only around 53 km from Ernakulam, the best way to get there is by bus or by rail or even by taxi. There will be government as well as private bus services from Vytilla to Alleppey, it will take around 2 hours to reach Alleppey from Ernakulam. If you prefer train services with around 90 minutes of travel one can reach Alleppey. Even rental cars are available for those preferring private transport. Read our blog post for detailed route details to Alleppey backwaters.
How to reach Alleppey from Kochi? 
One can easily reach Alleppey from Kochi as there are direct transport facilities available. By train, bus or by hiring a taxi you can reach Alleppey. Based on the time you can spend on traveling you can choose the best option. If it's by taxi or train you might take only around 90 minutes to reach Alappuzha, and if it's by bus nearly 2 hours will be required to reach Alleppey.  Read our blog post for detailed route details to Alappuzha.
How to reach Alleppey from Munnar? 
Munnar is around 170 km from Alleppey and there are special bus services from Munnar to reach Alleppey, so you can book seats in advance or else you can hire a taxi. The most convenient travel option will be hiring a taxi as it takes around 4 – 5 hours of travel. As Munnar is a hill station with no rails, you will have to get down to Aluva by taxi or bus and from there you can take the train to Alleppey.
Visit Alleppey Houseboats for more Backwater Packages.