Alappuzha Houseboat Rates For One Day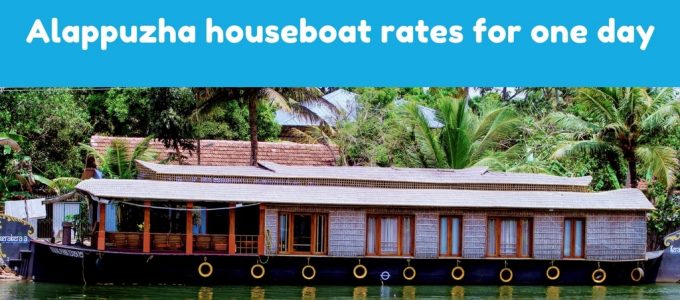 While you travelling to Kerala, houseboat stay in kerala  /alapi boat house may probably in your bucket list. Alleppey Houseboat rates for one day is comparatively cheaper in Alleppey Houseboat Club. You can book houseboat directly on this website without any worries. All houseboat booking through alleppey houseboat club is verified and service quality is assured. Alleppey houseboat club offers good kerala houseboat with better cruising and service with assured safety and security.
Alleppey the ideal nerve center for Kerala backwaters tourism as well as for journey to the exquisite church filled town of Kottayam, famed as Akshara Nagari literally means knowledge town of Kerala and to the land of Aaranmula famous for its historic Snake Boat Race event annually taken place.
There are 3 category houseboats are available in Alappuzha.
Delux – Partial AC, Ac Provided 9pm-6am
Premium – Full Time AC
Luxury – Full Time AC
Alappuzha houseboat rates for one day:
Kerala Alleppey Houseboat Rates /alapi boat house price  are different according to the seasons. Average Rates of alleppey boat house price list is as follows:
alapi boat house rates for one day is reasonable rates by the Houseboat Club.
Why Houseboat Cost In Kerala is too high?
Allappuzha backwater is the best backwater in the world. Boat Houses/Houseboats are the main reason to make the backwater famous. There are 1 bedroom to 11 bedroom houseboats available in alleppey.
The cost of carving a houseboat is 80Lakhs- 2Cr.The materials that go into the making are local and ecofriendly; bamboo poles, coconut fibre, ropes, bamboo mats, carpets etc. These materials should be changed every 6months which cost around 1.5L-3L. There is also an anual maintenance like polishing, painting etc..Its will cost 5L-10L. Thus maintaining a houseboat in good condition is expensive.
Point to Note:
You will get a 5 star category hotelroom  in Rs 5000 and above. If you go for same price you will get approximate 1 star facility houseboat only. So houseboat price is 4-5 times higher.
Some of Our Best Selling Houseboats

Frequently asked Questions:
Best Time To Visit Alleppey Boat House?
Peak seasonal time is between DEC 15-JAN10 During this time houseboat price will be 10%-30% hike in every houseboats. JUNE-JULY is monsoon and off seasonal time hence houseboat price will be lowest. All other period (JAN-MAY,AUG-NOV) rates are almost same.
What is the price for Alappuzha Houseboats Kerala Tour Cost?
Depending upon the number for days you want to spend in kerala price may varies. For better kerala tour package which include alappuzha houseboat, you can contact reputed tour planner like Yatramantra
munnar boat house , is there any houseboats in munnar?
No. There is no backwater in munnar. So munnar boat house is not available.
Houseboat Menu :
There are 3 different food menu in Kerala Houseboat. Delux Food menu , Premium Food Menu and Luxury Food menu. for Delux menu you will get 1 non veg items/meal. For premium food menu you will server 2 non-veg items/meals. For luxury , You will get four course meal with  2 non veg items.
 Read complete list of menu items in each category here. : Delux, Premium, Luxury
Houseboat Menu
full list.
Best Alleppey Houseboat Route :
Pallathruthy – kainakary -nedumudy -champakulam -kanjippadom and drop at pallathruthy is one of the best cruise route in alappuzha.
Kerala Houseboat Experience(Houseboat General Working):
A typical houseboat cruise in alleppey will offer you a splendid pampering and leisure experience. You can choose from luxury boat house cruises at affordable and economical rates. The main backwater cruise routes is between are Alleppey & alleppey.
If you are hiring a private houseboat than you can even get the itinerary customized according to your requirements.
You check in to the houseboat at 12:00 and are greeted by the extremely cordial staff with tender coconut water, fruit basket and garland.
You are escorted to your rooms where you can freshen up and enjoy the detailed furnishings of your private room in the houseboat.
At one after the boat has taken off, you are invited for a scrumptious lunch which usually comprises of the traditional Kerala dishes. However if you have other food requirements you will have to keep the respective operators informed in advance.
You have free access to the kitchen and you can ask the chef to whip up something special for you.The cruise will continue, making stop overs for you to catch a glimpse of the beautiful things the villages and the Vembanad Lake has to offer.
On a alleppey boathouse cruise you will beautiful rivers and canalsCatch a glimpse of the villages on the banks of the lake, kiosks selling local dishes, churches at a distance,Experience Toddy making and even tasting it is an experience you will take back from alleppey cruise As the sun begins to simmer to set for the day, your evening hot beverage will be ready to be served. A hot cup of Kerala coffee or tea along with some traditional accompaniments or snacks like banana chips.
By 5:30 the houseboat will hault. For the rest of the night you will be halting close to the land on the boat.
Dinner on deck under the moonlit sky is served if you've chosen a decker boat.For newly married couples the houseboat crew goes the extra mile to offer a romantic dinner setting .The boat halts till 7:30am in the morning due to legal restrictions. The time period allows fishermen to spread their nets to catch some fish. Hence you can watch them do that or even participate with them
An early morning cup of coffee or tea on the boat watching the sun rise is absolutely breathtaking.Watching the people beginning their day and running their errands at the break of the dawn is a beautiful scene to watch and a unique tour of countryside.
9am checkout from Kerala houseboat.
Houseboat in kovalam
Few houseboats available in poovar and kollam ashtamudi backwater. Compare to alleppey backwater , kollam and poovar backwater sightseeing are limited.