Ashtamudi Backwaters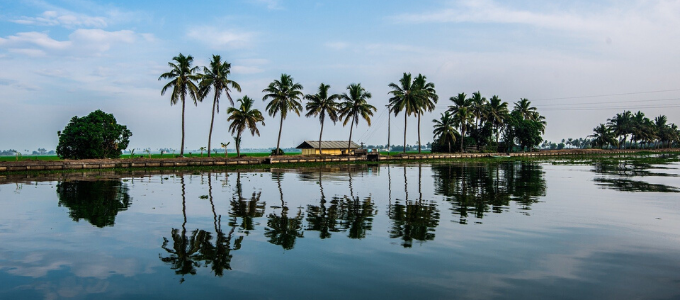 Ashtamudi Backwaters , located in Kollam district of Kerala, is the second-largest lake in Kerala with a length of 16 km and got its name as it has multiple branches.  Ashtamudi locally means 'eight braids' or eight hair braids. Ashtamudi is famous for its backwaters and the lake. It is at the Neendakara estuary this lake joins the sea.
Ashtamudi is known for boat rides, backwaters resorts and, houseboats. Many come along to enjoy the beautiful stretch of backwaters. The paths along the backwaters are fully covered by coconut groves and palm trees that add to the picturesque beauty of Ashtamudi. 
Another common sight throughout the waterways is the Chinese fishing nets that are laid through the banks of the lake to catch fish.
Boat cruises from Kollam to Alappuzha boathouse through the backwaters are preferred by a lot. It will be an 8 hours long journey through the waterways with small lakes, canals, and water-bound villages. One can closely watch the traditional village lifestyle of people by cruising through the Ashtamudi backwaters canals.
Life in Ashtamudi:
The main business or means of earning for people along Ashtamudi lakeside is by indulging in fishing, coir production, coconut husk retting, and providing inland navigation services. Ashtamudi lake and the life on its shores are always an inspiration and subject for many poets and writers. Many famous poets have come down to Ashtamudi as it's the best spot for awakening one's imagination and inner thoughts. This place offers something to each person who visits Ashtamudi.
Flora and Fauna:
There are almost 43 species of marshy and mangrove associates, which also includes 2 endangered species within Ashtamudi. The Ashtamudi lake supports 57 species of avifauna, amongst which 6 are migratory types and the rest reside in and around the lake. The lake is also home to 40 species of wetland-dependent birds. A large species of fish also inhabit this Ashtamudi lake.
Islands along Ashtamudi:
Along with the Ashtamudi lake, there are small islands that add more charm to this point. Munroe Island is a cluster of 8 tiny islands in Ashtamudi lake that attracts people. Over here one can see fishing, prawns feeding, coir retting process, coir weaving,  migratory bird watch, coconut farms on the lakeshore, narrow canals and waterways, lagoons, mangrove plants, and the beautiful tiny islands. 
Another one is the Chavara, this is an island within the Ashtamudi lake, one can reach here only through boats. This island is rich in minerals, thus houses industries engaged in the extraction and export of titanium and other minerals. 
Thekkumbhagom Island is another one that stays on the banks of Ashtamudi. This island has people engaged in coir production with simple village life. A 1000-year-old temple and a 200-year-old church add to its cultural heritage. 
A houseboat ride through this Kerala backwaters will give a different experience, the view of villages along its banks, small islands, and the lush green coconut groves are a real treat to your eyes. Ashtamudi is one of the best backwaters in Kerala and should be a must-experience one on visiting Alleppey.