Types of Kerala Boat in Backwaters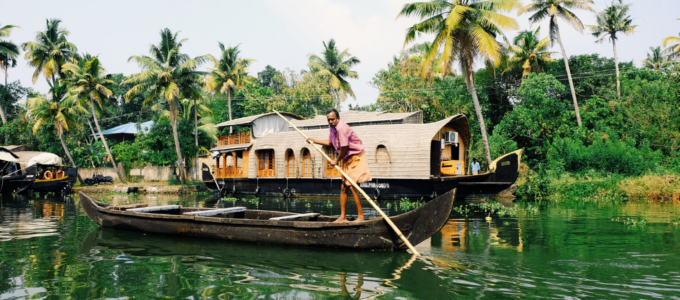 Kerala, the land of the green coconut groves and paddy fields is always an attraction for people from all around. The never-ending stretch of beaches, lakes, backwaters, and hill stations adds to its beauty. Backwater tourism is one such area that pulls a lot into it with different types of boats. The Kerala boat moving around the water bodies create the complete picture of Kerala backwaters. 
Kerala Backwaters have a different variety of boat types such as Kerala houseboats (boat house), Shikaras, Motorboats, Small Canoes, which are popular in the crowd.
Backwaters of Kerala are rich with beautiful house boats that offer a soothing ride through the waterways. The modern houseboats in Kerala are the modified version of Kettuvallams that was used earlier for the transport of goods and materials from Alleppey to other ports. Boat houses are huge, slow-moving boats made up of wooden planks held together by ropes made from coconut husk. The roof and side walls are finished with bamboo poles and palm leaves. Cashew nut oil is used to give a protective coating to the exterior of the boat. The interiors of the houseboats are designed in such a way that the rich culture and heritage of Kerala stand out well, and they are well furnished and maintained with all amenities like that of a hotel or villa. The construction of these Kerala boat houses is inspired by the traditional Kerala architecture. These Kerala boats will be around 60-70 feet long and 15 feet wide. 
The traditional houseboats in Kerala consist of bedrooms with an attached bathroom, living space, kitchen, and balcony. Houseboats are available in different types, from one-bedroom boat to ten-bedroom boat. Boat houses have a larger capacity to accommodate more people and will be stable over the waters. Houseboats in Kerala are also available with TV and internet facilities thus making you feel that you are not away from the outer world. Delicious food, usually prepared in Kerala style will be served onboard. So one can enjoy the beautiful backwaters along with the tasty Kerala food in this Kerala Boat. 
Pros.
They will be bedrooms, toilets, bathtubs, etc. available within this Kerala boat

Some Kerala boats have fully air-conditioned rooms

Kerala style freshly cooked food will be available onboard

Day and night cruises will be available for house boats

They are more secure compared to Shikaras, motorboats, or any other Kerala boat
Cons.
They have a limited travel route

Speed is restricted up to 20 km/hr

Comparatively costlier than other Kerala boats
Kerala Shikara boat
Shikara boats, adopted from the Kashmir style, these boats are used in Kerala backwaters for sight-seeing. As they are budget-friendly some people prefer shikara rides through the waterways. They are comparatively smaller than the house boats and motorboats, with comfortable seating arrangements for the travellers. These boats are made of wood material that doesn't decompose in constant contact with water. 
Shikara boats are preferred among people who want to closely watch the village lifestyle. As the traditional backwater villages lie along the sides of small and narrow canals they are not accessible by boat house trips. Shikaras are well suited for the journey through these small pathways of backwaters. The real beauty of backwaters is within its villages.
Taking an early morning ride over the shikaras through the backwaters will let you enjoy the cool breeze from the waters along with a beautiful sunrise. As the sides of shikara boats are open it provides the best sight-seeing experience. Shikara boats can accommodate around 4-15 people at a time. They are charged on an hourly basis thus making it cheaper than boat house and motorboats. The cruising times are from 8 am to 6:30 pm.
Pros.
Best opted for sight-seeing

Well maintained with comfortable seating arrangements

Better suited for Canal tourism

Wide travel courses 

More affordable than motor boats, houseboats, and other Kerala boats

Will be quicker than boat house, 40km/hr
Cons: 
There won't be rooms or toilets inside Shikaras

They are open type, thus no air conditioning

Food will not be served inside Shikaras

Night cruise will not be possible

Lesser secure compared to other Kerala boats like boat house and motorboats, etc. 
Kerala Motor boat
Motorboats are considered to be another means of transportation across the backwaters. They are found to be a more economical means for travel across the waterways. Motorboats are relatively smaller in size than houseboats but bigger than Shikaras. These boats are more opted by people who have limited time to spend on backwater cruising.
Motorboats are fully covered thus offers more safety than the Shikaras. There will be life jackets, fire extinguishers, and emergency first aid kits available inside the boat. Motor boats offer more secure transport along the waterways. They are used only for sight-seeing purposes with a capacity to accommodate around 60 people onboard. These boats are hired on an hourly basis. One can move freely inside motor boats as they have suitable safety stratagems. These Kerala boats won't be any rooms or toilet facilities available inside the boat, but there will be two cabins. One will be the engine driver's cabin and the other will be for the guests. The engine sounds can be a bit noisier compared to other boats, thus causing disturbance throughout the journey. Motor boats will be available only for a day cruise, as night cruising through backwaters is strictly prohibited. The cruising times are from 6:30 am to 6:30 pm. There won't be food served inside the motor boats.
Pros.
More suitable for sightseeing

Speed ranges can be up to 50km/hr

Some are available with Toilets facilities

Separate guest cabin available

Safer than Shikkara

More spacious interiors, people can freely move inside 

Better suited for Day Cruise

Wide travel itineraries

More Capacity is offered compared to Shikkara, up to 60 people can travel at a time.
Cons.
Comfort will not be same as Shikkara or boat house

Engines can be noisy

There won't be rooms or toilets 

Air conditioning will not be available

No food will be served onboard

Night cruises and stays are not available

Less maintenance is given compared to houseboats or shikkaras
Small canoe boats:
Canoes are small narrow, light-weight boats that are used by the natives of backwater villages for domestic purposes like travelling across the water bodies, fishing, etc. These Kerala boats move across the waterways in the direction of flow with the help of paddles. 
Canoes are also common among the tourists as there are canoeing facilities offered through the small and narrow canal of backwaters. One can enjoy a calm and slow pace canoeing experience through the backwater canal where the real beauty exists. Only a limited number of people can take a canoe ride as they are not wide and spacious like other boats. 
Pros.
Sight-seeing to the best extend

Very cheap compared to other means

Covers a lot of small canals

Best for an early morning cruise or evening cruise
Cons:
Capacity is very smaller

Less secure

There won't be any other facilities within this Kerala boat
Alleppey boat houses have gained fame among tourists from different places who prefer backwater rides. One can book houseboats in Alleppey within budget rates through online services, where you can find different types of boats.