All about Alleppey Houseboat Cruise [Updated 2020]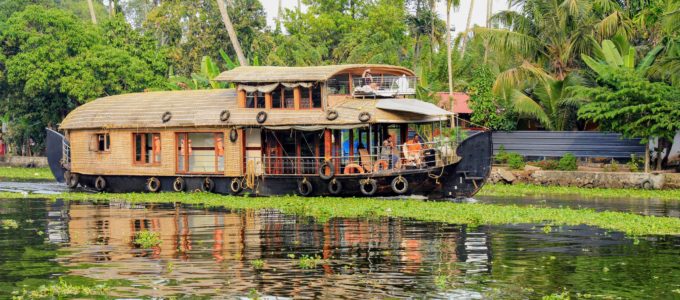 A day out with your loved ones can give you a break from your daily rush. It makes you stay relaxed and free from the hustles and bustles of everyday life. Always travel experiences must stay forever in one's memory for that you must visit the best places on earth. A houseboat cruise in Alleppey is one of the best things to add to your vacation Plan. 
Once you are in Kerala the best way to spend your holidays is to try an alleppey houseboat cruise through the beautiful backwaters in Alleppey. Backwaters in Alappuzha is one of the best and most popular backwaters in Kerala its beauty attracts a lot of tourists here.
Kerala boat house Operation
: 
Alleppey Houseboats are the most attractive element in Alleppey. They are boats that resemble a small houses with all the required facilities, houseboat in alleppey. In early times they were used as a means of transport of goods from different places of Alleppey to Kochi port. They were known as "Kettuvallams" which means boats tied by ropes. These alleppey houseboats are made of wooden planks of 'Anjili' that are tied together by ropes of coconut fibre and have a length of around 60-70 ft and a width of 13-15 ft. The alleppey boathouse interiors are all arranged and designed with dry bamboo poles and bamboo mats. Thus giving them an aesthetic appeal that attracts one's eyes.
The number of people that a houseboat can carry is from 2- 150, it varies depending on the houseboat capacity. There will be 3 members inside the boat, the captain, cook, and a guide. All three will be very trust-worthy and friendly. 
One can easily arrange a boat house cruise by consulting a tour operator in Alleppey and they can provide you with the list of best houseboat cruises available in Alleppey. Or checking the reviews posted by people over online sites will be a better option in planning a houseboat trip.
Types of Houseboats:
The Houseboat cruise in Alleppey is categorized into 3 types based on the facilities available on them. These are the list of houseboats in Kerala backwaters.
Deluxe houseboats:
Deluxe houseboats are under the basic category houseboats with primary amenities. For a one-bedroom alleppey houseboat, the price ranges start from Rs.7000 onwards. AC will be only available from 9 pm – 6 am. There will be meals served onboard with one non-vegetarian item each for lunch and dinner. 
These houseboats will have a well-equipped kitchen, bedrooms with attached bathroom, a dining area, and a front living area. The beds will be kept at a height with the windows so that you will not miss the view of backwaters. 
Premium houseboats:
Under the standard category, these boats offer more services than the deluxe type. The price range starts from Rs.9500 for one-bedroom alleppey houseboats. AC will be functional for all hours and food will be served on board. Your meals will include two non-veg items for lunch and dinner. They will be more furnished and well maintained. 
Available with a well-equipped kitchen, bedrooms with attached bathroom, a dining area, and a front living area, there will be conference halls in some boats. 
Luxury houseboats:
With its high-quality interiors and excellent infrastructure, these houseboats offer a luxury feeling. You can enjoy the interior as well as the exterior of the houseboat equally. They are maintained and equipped with all amenities that a house can offer you. AC will be on all the time. For a one-bedroom luxury houseboat, the price starts from Rs.12000. There will be a wide variety of food items served on board. 
These houseboats have well-furnished bedrooms, modern toilets, kitchen, open spaces, dining areas and conference halls that have handicrafts items and coir products displayed to depict the traditional Kerala style. They mostly have glass doors and windows to add to the luxury feel. Luxury houseboats offer the same ambience as that of a 5-star hotel/resort room. These boats are the most recommended ones for night stays with its international standard. 
More than the different types of houseboat services offered, there are few other things that every houseboat operators take into consideration. We offer complete privacy to the guests in all alleppey houseboats, the crew will take maximum necessary actions to avoid the insects, the guide will be well trained in giving instructions and will be able to handle different languages.
As these boats are fuel operated ones, the rates of houseboats are mostly dependant on the usage of fuel. So the rates may vary with the requirement of the number of rooms over the houseboats.
Houseboat Itineraries:
The best backwater ride will be one through Alleppey and Kumarakom as the major attractions like the Pathiramanal Island, Kuttanad Backwater, R block, H block, and Huge Paddy Fields lies between this route. 
Most popular backwater itineraries that are opted by people are:
Alleppey-Alleppey round trips

Kumarakom-Kumarakom round trips

Alleppey to Kumarakom or Kumarakom to Alleppey
Even Kollam with Lake Ashtamudi offers backwater tourism services over houseboats. During the summer and winter seasons, there are even houseboat itineraries that start from Kollam to Alleppey and vice-versa. 
The most popular Houseboat itineraries that are on-demand are:
Alleppey backwaters – Alleppey backwaters: a round trip with one night stay

Kumarakom backwaters – Kumarakom backwaters: a round trip with one night stay

Kumarakom backwaters (checking-in) – Alleppey backwaters (checking-out) with one night stay

Alleppey backwaters (checking-in) – Kumarakom backwaters (checking-out) with one night stay

Kollam Backwaters – Kollam Backwaters: a round trip with 1night stay

Alleppey Backwaters – Kollam Backwaters or Kollam Backwaters – Alleppey Backwaters with a 2-night stay
The various check-in and check-out points of Alleppey backwaters are:
Nehru Trophy Finishing Point & Starting Point

Punnamada Jetty

Pallathuruthy

Kainakari

Nedumudi

Kavalam

Kaaipuram

Muhamma

Kannankara And Thaneer Mukkom
The various check-in and check-out points of Kumarakom backwaters are:
Kumarakom Boat Jetty

Kavanattinkara

Cheepungal

Kaipuzha Muttu And Vechoor
Cruise timings of Alleppey houseboats:
Usually, all houseboat operators have to keep their houseboats ready by 11:30 am for check-ins so that the guests can board at sharp 12 to start their houseboat journey. The journey begins with a welcome drink. On moving through the beautiful backwaters, the guide will be the one who will provide you all the details regarding the places you come across. By around 2 pm, the boat will come to a halt in the middle of the backwaters for lunch to be served. After lunch, the journey starts over again. On covering the important landmarks and attractions along the backwaters, the ride comes to an end by 5:30 pm. Thus spending 5-6 hrs you can cover up to 50 kilometers of the backwater. The next day the journey begins by 8 am and ends at a check-out point by 9 am. As per the rules, the speed of houseboats remains limited to 9 – 11 km per hour and also, night cruises through the backwaters are not allowed. (kindly read terms, conditions and safety norms for more information).
Different cruise routes are available through the backwaters that offer a different view and a different experience. The usual paths are:
Alleppey-Round (Normal)

Alleppey-Kumarakom (Long)

Alleppey-Thottapally (More Sightseeing)

Alleppy-Nedumudi 
All these cruises are only on one route.
Types of Packages:
Only 3 types of Houseboat cruise packages will be possible in Alleppey:
Overnight cruise package

Morning cruise package
Overnight boat house cruise package in Alleppey:
The most common and most preferred houseboat package as it lets you stay over the boat for a longer time. And a night drive through the calm backwaters with fresh cool breeze can make you feel relaxed. This package includes:
Check-in time: 12 noon
Check-out time: 9 am (the next day)
Total hours on the boat: 21 hours
It includes meals that start with a welcome drink, lunch, evening snacks, dinner, and breakfast.
Day cruise package in Alleppey:
As the name says it's just a one day cruise through the backwaters, that lasts for around 5-6 hrs. 
Check-in time: 11 AM
Check-out time: 5 PM
Total hours on the boat: 6 hours
You will be served with lunch and evening snacks.
Morning cruise package in Alleppey:
A short journey through the backwaters by covering all the important sightseeing spots of Kuttanad regions, Vembanad Lake, C, R Block Island, Kuppapuram Island, etc. The trip begins with a welcome drink and you can add breakfast by paying extra.
Check-in time: 9 AM
Check-out time: 12 PM
Total hours on the boat: 3 hours
No lunch will be provided and the check-out time cannot be increased on paying additional and it remains strictly followed. 
Points to consider for better cruising in Alleppey houseboats
Houseboats strictly follow the check-in and check-out timings

The cruise timings cannot be extended with extra payment

The booking charges may vary according to season

Don't expect complete facilities offered by a hotel/resort in houseboats

Based on the boats AC timings can be different, in some boats, it will be available from 9 PM to 6 AM.

Most of the houseboat may not have direct running hot water

There will be flies and insects in the presence of light at night and they cannot be eliminated 100%. 

Any special requirements for food must be informed 5 days before the trip

You will not be permitted to cook in the houseboat
We hope that the information so provided might help you in enjoying a beautiful backwater cruise in houseboats.