Kerala Houseboat booking [Updated for 2020]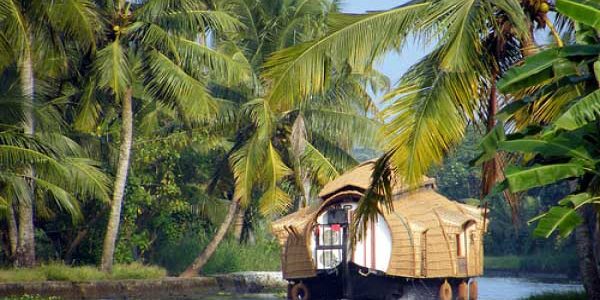 As Kerala offers a never-ending list of beautiful places, one will be confused about where to go. There is a lot to be done in Kerala, on visiting here you will go back with the best memories ever. Backwater tourism is something special with Kerala, it offers a few backwater destinations for the tourists to spend some quality time. This is a complete guide that helps you to book alleppey houseboats in Kerala.
Many opt for backwater rides, the most graceful and well-arranged houseboats at alleppey through the beautiful backwaters are always an attraction to one's eye. Planning a Kerala houseboat journey through the backwaters will be the best way to enjoy the natural beauty of Kerala.
When you are planning an alleppey boathouse trip, several factors are to be analyzed. You should know certain things before booking a Kerala houseboat. The most important ones are:
Choosing the best place to stay in houseboats:

As south India offers several backwaters, you will be confused about which one can give you the best experience. So deciding the best backwater location will be the primary concern. Alleppey, "Venice of the East" is one among the famous backwaters of Kerala, which stands out with its evergreen beauty and tranquillity. Tourists visiting Alleppey must try the Kerala houseboat trip through the backwater, it will be a great time in your life.                                                                                        

Choosing the Best time to book a houseboat in Kerala: Backwaters mostly attract people based on seasons and on planning a backwater ride, you should be conscious of the best time to explore the backwaters. Monsoon is the best suited season suggested for experiencing the backwaters as there will be offers and discounts on your journey.
November to February will be the best time to explore backwaters and experience a larger crowd and higher booking rates as these months have the most refreshing climate. Since the booking rates are very low during the summer season people do opt for Kerala houseboat rides even during this season. To enjoy the tour to its maximum, make sure that you choose the best time for booking houseboats in Kerala.
10 things to know before booking a boat house in Kerala:
As Alleppey backwaters look marvelous with hundreds of Kerala houseboats, there won't be any difficulty in booking a alleppey houseboats cruise. But still, before you book one there are certain things you must know about these houseboat and Kerala houseboat bookings:
10. What is Kerala House boat?
Kerala Houseboats are the modified form of Kettuvallams that are giant boats made of wooden planks and bamboo sticks. As they float all the time in the water they must be well maintained. The average lifetime of a Kerala houseboat is 6 – 10 years. Thus while booking a Kerala houseboat try to know for how long this boat has been used and also details concerning its construction. Online booking will let you know more about the condition and facilities offered by houseboats.
09. Boat house packages
Alleppey Houseboat cruises are available under different packages. So based on your preference choose the right one. The normally available ones are:
Overnight cruise package: One can spend 21 hours inside the Kerala houseboat enjoying the backwaters and the facilities offered by them.

Day cruise package: A 6-hours travel through the backwaters with delicious lunch and evening snacks served on board.

Morning cruise package: For those who are running short of time, the 3 hours journey through the beautiful backwaters covering all attractive spots will be a memorable one.
08. Kerala Houseboat types (categories)
Usually, booking for Kerala houseboats are categorised into three: Deluxe, Premium, and Luxury. They are categorized according to the services offered in them. If you want to feel luxury service, consider choosing luxury category boats that will give you a feel of being at home. They are available with all essential services. 
07. Boat house Price/Rate
In Kerala the price ranges for booking houseboats vary with the facilities offered by them, it depends on the number of rooms available, extra services provided, etc. As these boats are fuel operated, based on the services installed in it the maintenance cost will vary, so booking charges for kerala houseboats are calculated accordingly. 
Also, during peak seasons there will be price variations. Online booking services will have all the details about the price ranges and different services offered by the Kerala houseboats.
06. Day ride or overnight stay and Check-in and Check-out timings
As Kerala houseboat services are available for a day cruise and overnight stay one will be confused about the best time suitable to enjoy the backwaters while booking. Day cruise will be a 3-6 hours ride through the backwaters covering all the attractive spots along the cruising path. When it comes to overnight cruises, one can spend around 21 hours on the Kerala boat house. There will be lunch, evening snacks and dinner served on the boat. For people who come from distant places, it is always advised to opt for an overnight cruise.
The check-in and check-out times for overnight stay over Alleppey house boats are 12 in the noon and 9 am. And for the day cruise, the timings will be 9 am to 12 noon respectively.  There won't be any change in these timings under any circumstances so make sure that you reach on time. The boarding point can be chosen according to your convenience while booking a Kerala house boat.
05. Cruising Period and Direction of boat house in Kerala
Alleppey Houseboats are allowed to cruise through the backwaters only during day time, after the specified time they have to be moored to the shores and the journey starts the next morning. During night one can stay over the deck and enjoy the calm backwaters and the starry sky. They will also halt in between the journey during meal times and then continue its travel.
The cruising directions will be different for different boats and the charges will be dependent on the routes selected. So while planning the trip check the route through which you will be cruising. Alleppey-Alleppey round trips, Kumarakom-Kumarakom round trips, and Alleppey to Kumarakom or Kumarakom to Alleppey are the common routes that are preferred by most.
04. Crew and Facilities offered in Kerala houseboats
The Kerala House boat crew is a three-membered team, the captain, cook, and the guide. The guide will provide all the available details and history about different places that you come across while cruising.
There will be AC, refrigerator, TV and even internet facilities available inside an alleppey houseboat. At times based on the boat category the AC timings can be from 9 pm to 7 am. The Premium and Luxury Alleppey houseboats will have full-time AC. Online booking services will have in detail all the services available inside a Kerala houseboat. So choose the boat category with which you are planning to travel wisely.
03. The house boat Food
Usually, food is being cooked and served inside the Kerala houseboats. They will be Kerala style dishes, which are very tasty and delicious ones. You can enjoy the seafood varieties and a lot more prepared in traditional style. You need to get a clear idea about the food served in your boat house before booking the boat.
While booking an alleppey houseboat go through the menu available and if you want to add something on prior intimation they can provide you with the same. Some houseboats even allow self-cooking. If required you can also carry beer or wine as they are not available inside the boat.
02. Booking and Cancellation
It is always better to book a alleppey houseboat in advance to avoid the last-minute rush. In case you have to postpone your trip make sure that there will be cancellation facilities. There are a lot of online agents who provide booking services and they do have clear house boat cancellation policies too. 
01. Knowing Culture
Some houseboat in alleppey offer certain services other than the boat trip, like village trips, bird watching, fishing, canoe village rides, etc. They can be complementary services but certain houseboat operators might charge extra for these, so make sure that while booking all charges are included in it. 
Several Alleppey houseboats offer honeymoon packages, facilities for office parties, birthday celebrations, and cake cutting, etc. 
5 Mistakes to be avoided while booking houseboats in Kerala:
Naturally, we people miss out on certain things while planning a trip may be the important one. So it is always advised to take into consideration a few things that are very much important while planning houseboat trips. Planning and booking the right houseboat are the important ones.
Here are some common mistakes that should be avoided while booking a houseboat:
1. Avoid late check-ins.
As per Government regulations, the permitted time for an Alappuzha houseboat to cruise through the backwaters is from 12 in the noon to 5:30 pm. After that, the houseboats will remain moored to the shore. If you want to enjoy the backwaters to its fullest, always maintain the check-in times so that you don't miss the best part of the cruising time along the backwaters. The houseboat crew members will be on duty for 24 hours and they will be on time. Always start a little early, so that you can reach by the check-in time or else your cruise times will be short.
2. Avoid Price negotiation.
Houseboats always follow a standard rate based on the facilities available on them. So when you try to negotiate the houseboat booking rates the services will be affected as the operators try to balance the maintenance cost. Thus trying to book a houseboat at a cheap rate, you will have to compromise over the cruise time, quality of food or some other things.
3. Avoid travelling on peak days.
Most people plan a houseboat trip during Christmas, Diwali, Pooja holidays and in May. Those days experience a peak in price ranges. It is observed that there will be a price hike of 20-80% during peak times. As houseboats in Alappuzha, Kerala are operational throughout the year there will be a great rate difference compared to peak days and the normal days. If you are planning for a budget trip or a honeymoon package try booking houseboats on the other days. 
4. Avoid bookings by directly contacting the houseboat owners.
It is observed that in Kerala, boat house owners with few boats don't have much online presence, and so you won't be able to know about the quality and services offered by them. They might compromise on the houseboat rates but the services provided will be cheap. Thus always trust an online agent in booking a houseboat.

Online agents will have frequent updates on the quality and services offered by different Alappuzha houseboats. Based on the reviews from previous customers the online agents maintain a standard in the service and the boats will be verified. There are many trusted online agents for booking Kerala houseboat.
5. Kochi-Alleppey cab booking.
Cabs normally booked from Kochi to Alleppey will be charged two ways (Kochi – Alleppey – Kochi) even if you are taking it till Alleppey. Hence, guests who are travelling only for houseboats, it is better to book the cab for two days directly (Day 1 – Drop-in Alleppey | Day 2 – Back to Kochi).
Do's and Don'ts inside a Houseboat:
As alleppey houseboats are floating over water bodies, one must be very careful while inside the boat. Personal safety is an important factor that must be given more attention. While travelling across water bodies following the safety and security guidelines will be a great advantage, as it will help to have secure travel experience. So please follow the dos and don'ts while you are inside houseboat:
Do's:
Do follow the rules and regulations 

Do wear life jackets

Do follow the instructions given by the guide

Do maintain the cleanliness of the boat

Do make use of the dustbins
Don'ts:
Don't overload the boat beyond its capacity

Don't rush into the boat

Don't move around unnecessarily 

Don't disturb the crew 

Don't damage anything

Don't play with the electrical appliances without prior permission

Don't waste and pollute water 

Don't leave your valuables inside the houseboat rooms

Don't throw any cloth, sanitary napkins, condoms or any other items into the toilet
Make sure that you leave with a wonderful alleppey houseboat experience along the beautiful backwaters of Kerala with the best houseboats in Kerala by considering the above mentioned important things that might help you.