Alappuzha Backwaters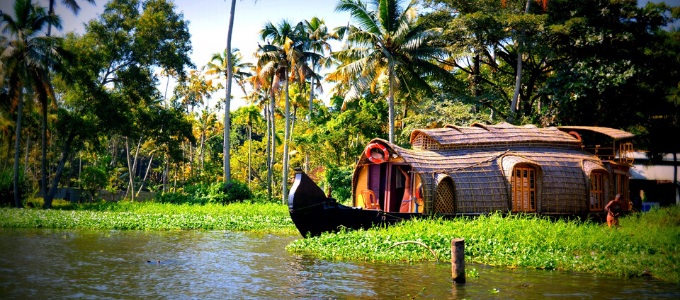 Alleppey or "The Venice of the East", the land of sky sky-blue lagoons, backwaters, abundances of greenery, and mesmerizing beaches with a blend of tradition and piousness drags a lot of people. Alleppey or now Alappuzha was scraped out from the portions of Kottayam and Kollam districts. 
The name Alappuzha means "home to water sources", it got this name since the place is circled by sea and a network of rivers. It is famed for its best backwaters in Kerala and therefore presenting it as a heart-throbbing spot. Alleppey or Alappuzha always stood out to be one of the most prominent tourist destinations in India. It attracts a lot of natives as well as tourists with its admiring elegance.
Alleppey is one of the best places in south India to plan a tour. You can linger and endure the south Indian village lifestyle, an apt place for bird lovers and photographers, one can experience the beaches and sunsets, even there are places to relish some spirituality by going around temples and churches, there are areas for shopaholics, one can witness the boat races, can go around to experience the ayurvedic spa and massages and mainly planning a backwater ride over a houseboat will complete the tour to achieve its fullness. 
What is unique with Alleppey is reminiscent of the old port, the Chinese fishing nets, the flocks of ducks swimming around the lakes, small canoes, toddy shops, are some pictures that you will not feel anywhere. 
The main attractions of Alleppey are Laccadive Sea, Mannarasala Temple, Vembanad Lake, Marari Beach, Pathiramanal Island, Sree Krishna Swamy Temple, Thumpoly Beach, Chettikad Beach, Alappuzha Beach, and Lighthouse, Punnamada Lake, the Great Alappuzha Backwaters and a lot more.
There are a lot of activities one can get involved while you are in Alleppey. Enjoying a backwater tour watching the daily routines of the villagers, stay along within one of the villages and observing the lifestyle of ordinary people, exploring the beaches and watching sunsets from the lighthouses, go around having a distinct shopping experience with floating Triveni- a floating market, walk around the coir industry and watching how coir is being made out of retted coconut husks, purchasing Jewelry, handloom items, and handicrafts at affordable rates, can add to spent some quality time in Alleppey. 
Reaching to Alleppey backwaters while August- September you will be able to witness the practice sections for the Snake boat races. There is a never-ending list of things that can be done in Alleppey backwaters.
Kuttanad
Kuttanad one of the main allurements in Alleppey backwaters which has an unending stretch of paddy fields, canals, streams surrounded by green coconut groves all around will be a visual treat for your eyes.
One can also take a visit to Pathiramanal Island where you will be able to observe a lot of seasonal and migratory birds from all around the world.
The Chinese fishing nets fixed on their installations are forever a welcoming treat for someone visiting Alleppey. The main source of earning money amongst the inhabitants of Alleppey backwaters is fishing, they even do have fish farms with a variety of fishes. One can also get entertained in fishing activities on visiting Alleppey, you can accompany the fishermen with local fishing boats to catch fish, witnessing how the fishing nets are being laid along the lake, watching them gliding deep down to catch fish everything will be a strange experience.
Food of Alleppey
Alleppey is famous for its variety of delicious food items. The Kerala Sadhya served on banana leaves is famous and is of great demand among the tourists. The best attraction for seafood lovers is the fried or grilled shrimp that can satisfy one with its astonishing flavour. Malabar Biriyani, Kerala Fish curry, Idiyappam, Ela Ada, Shappu fish curry, Elaneer Kallu, veg pulav, hot banana chips can arouse the taste buds with its flavour. 
The most popular item is the spicy Karimeen Pollichathu which is famous among people all around. Fresh palm toddy (kallu) from the coconut tree along with fish and sweet tender coconut water is another must-try item in Alleppey.
The food served on alleppey houseboats in Alleppey backwaters is also a special one to try out. The Kerala style fish curry and chicken curry are the main highlights among the dishes served on board. 
Snake boat races in Alleppey Backwaters
Alleppey backwaters is also a famous venue for hosting Snake boat races, the start of boat races was on the visit of our former Prime Minister Jawaharlal Nehru to Alleppey and he got pretty much impressed by the same and came up with the idea of conducting boat races every year and thus Nehru Trophy Boat Race after his name got fame all around the world and there will be a lot of people who gather together to witness this event.
Alappuzha Backwaters 
Backwaters of Alleppey is one of the major attractions to tourists. Alleppey has got the best backwaters in south India that welcomes a lot of people. houseboat in alleppey stay as one of the prominent attractions of Alleppey. Planning a house boating in alley trip through these backwaters will always be an enchanting happening. In the early times, people used Kettuvallam services to move goods and materials from one point to the other and later these boats were used by the royal families as living quarters. So the houseboats in Alleppey are modified variants of Kettuvallams. 
Alleppey Houseboats that move through serene water bodies with a stunning view of paddy fields and lush green coconut groves across both sides is an unusual picture that you will get only in Alleppey. The best way to spend time and enhance your voyage to Alleppey backwaters is by trying a houseboat journey. So make use of your chance to experience the kerala houseboat cruise when you visit Alleppey. 
Houseboats of Alappuzha Backwaters
If you are a travel enthusiast looking for an immensely relaxing travel experience the exotic Alappuzha backwater tour in Alleppey houseboats will always be something that stays forever in your memory. The alleppey boat house over here are suitable for all sorts of visitors, that range from low-cost budget to a luxury trip. Houseboats in Alleppey backwaters are the best ones with a homely atmosphere. 
The Kerala houseboats are occupied with a well-equipped kitchen, master bedroom with attached washrooms, dining space, small hall, and an open lobby arranged over the boat deck to relish the beauty and cold breeze of the Alappuzha backwaters to the maximum extent. They also have play items such as carrom boards, chess boards, and fishing rods to make the travellers get themselves engaged in some activities.
Another highlight with these houseboat at alleppey is that delicious food will be served for breakfast, lunch, and dinner by the in-house cook in them. There will be a variety of spicy and hot seafood items that can fill water in your mouths and have a unique Kerala taste. To spend a night in an alleppey houseboat enjoying the cold lake will always be a remarkable one.
Houseboats in Alleppey/Alappuzha backwaters started innovative plans to engage the visitors, by including traditional dance performances like Kathakali, Kerala Natanam, etc. You will be happy when you get more than your expectations thus exploring Alleppey through the Alappuzha backwaters in a houseboat will be transcending.
To experience one of the best backwaters in Kerala you must visit Alleppey and take a houseboat trip. The most suitable time to visit Alleppey is from September to March, with its best climate on the offset of Monsoon and the chilling climate one can stay relaxed and tranquil on the boat deck relishing the lake and its cool breeze. 
Furthermore, during the monsoon season, there seems to be a large flock stretching to feel the Alappuzha backwaters. Even though the climate is not welcoming during the summer some people come around booking houseboats to evade being disturbed by the crowd and to own the journey at an affordable rate. 
Alleppey always welcomes you with its extreme elegance and tranquillity. Alleppey will be the perfect spot for solo travellers, people looking for perfect backwater destinations and a place that better suits romantic getaways.
It's not just about these houseboats, there are also hotels and resorts to relax, ayurvedic treatment and massage centres to rejuvenate oneself, seafood delicacies that add a different flavour to your tongues. One can have a lot of fun and entertainment once you are here. 
It's time to book a Kerala house boat trip and enjoy the best backwaters in Kerala.