Travelogue on Alappuzha Kuttanad Trip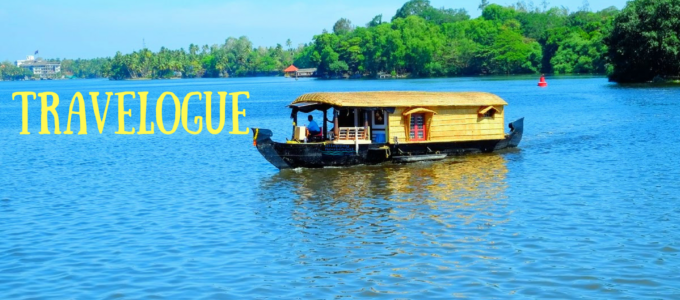 An interesting Kerala Tour Travelogue On Alappuzha begins here,
Alappuzha[Alleppey] -Kuttanad trip starting from Aluva [Alwaye] on 6.45 AM in KSRTC bus to Vyttila Mobility Hub. Getting along the Alleppey KSRTC Air Bus from Vyttila that rode to Alleppey via Aroor-Cherthala- Maararikulam.
Reached Alleppey KSRTC bus stand by 9.30 AM and had breakfast from nearby local hotel. After breakfast taking KWA Ferry from Boat Jetty [near to KSRTC Bus stand] to Chavara Bhavan in Kainakary. Ticket costs Rs 8/- per person for an amazing alleppey boat trip, clearly had fun cruising through the canals of Alleppey
It is interesting to see the Shops, Infrastructure for construction by means of water and especially School-'Boat', enjoyed the change in all aspects in 'Venice of the East'-remembered Lord Curzon [Viceroy Indian Empire 20th Century] who called Alleppey so.
While entering to Punnamada Lake also known as Vembanad Lake [Longest lake in Kerala] sighted the VIP pavilion of prestigious Nehru Trophy Boat Race (From 1952).
Scenic beauty of the vastness of the Vembanad Lake and the greenery of the paddy fields of Kuttanad, is a visual treat to one's eyes. Boats passing us in various size and shapes- from single seater small boats to huge double decker houseboats. It is daring to see the balance of the rider of single seater boats as water in lake and boat was in almost same level
Ethnic houses of Kerala architecture in the region was adding the beauty to the views of the backwaters. Exciting views of people walking along the narrow paths between Lake and paddy fields, kids playing in paddy fields, ladies cleaning fish to prepare dishes for lunch, toddy shops, small shops made with wooden planks and smell of amazing Sea Food.
Alappuzha is one of the exotic places in Kerala because its scenic coastal stretches, beautiful backwaters and serene paddy fields.
Reached Chavara Bhavan Boat Jetty by almost 10.30 AM. Region is just a retrospective of Kerala during 1990s with nostalgic surroundings – boys and girls playing cricket, elder people walking in walkways, ducks in water, fisherman in lake-side, workers in paddy fields. Walking through the sideways of canals covered with 'Coir Bhoovastram'- an amazing discovery by Coir Research Institute functioning at Kalavoor.
Walk to Chavara Bhavan was the highlight of the trip. After praying for a while, visited the well-maintained Birth-Home of St. Kuriakose Elias Chavara preserved inside Chavara Bhavan building. Preservation includes not only the memoirs of the saint but also the precious gifts from past.
The marvellous architecture especially the Mugghapp [the facade], roofing with coconut leaves, two level construction with -Araa in the basement kept neat and clean. The ambience inside the birth-house will revert one from 21st century to 18th century. The corridor views and the light coming through vertically crossed windows reminds of the colonial era.
Returned to Chavara Boat Jetty and caught the boat to Alappuzha town. Returned from KSRTC Bus Depot Alappuzha by 3PM.
-Edited an article published in Sanchari Facebook Group Page by Joyal Johnson Madassery.