Coronavirus in Kerala – Houseboat trip is safe?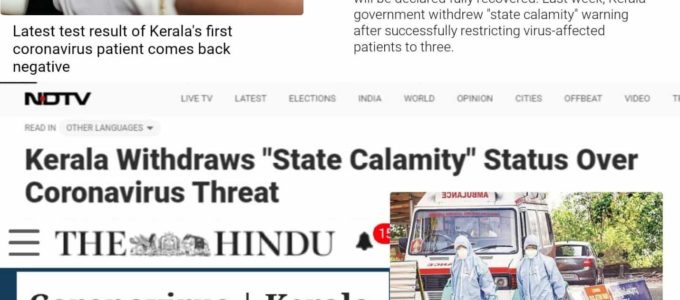 Coronavirus in Kerala is not much affected. The novel Corona Virus is initially reported in Wuhan(Hubei Province) a city in China created a big threat to the human being, but this condition prevailed as the Health department couldn't take necessary actions to stop its spread. Proper diagnosis and prevention methods can help in reducing worse conditions.
In Kerala, the Health Department has taken the required measures to avoid more serious situations. There were 3 infected cases reported with Corona Virus in Kerala. All three were under special isolation wards with a stable health condition. These 3 students reported with Coronavirus were medical students from Wuhan and belongs to different districts of Kerala. 
Medical Emergency has been announced to ensure everyone's safety. The Kerala government has also taken special care in observing all those who came from China to Kerala, they are kept under home quarantine for 28 days, and thus avoiding the fear of the spread of this virus. 
Based on the safety measures recommended by the WHO the risk of Novel Corona Virus infection can be reduced:
Avoid contact with people who are under observation

Wash your hands with soap or alcohol-based hand washes, if your hand is visibly dirty.

Avoid contact with people having cold or flu symptoms

Eat only thoroughly cooked meat and eggs

Avoid unprotected contact with pets or farm animals

Use face masks while travelling around

Make sure that your throat stays moist all-day
Few important facts about Coronavirus that everyone should know:
Coronavirus is not dangerous than the common flu, as common flu annually kills 60 times more people than Corona.

Also, only 2% of death is reported and this occurs due to a poor immune system.

Moreover, it's all about passing misinformation regarding this virus creates a panic situation.
As Kerala fought the NIPAH virus, the health department will fight Coronavirus too. 
    FAQ
Is it safe to travel to Kerala?


It is very safe to travel to Kerala, as the government has taken all necessary actions to avoid the spread of the Corona Virus.

Is there any Coronavirus outbreak in Kerala?


It's just spreading misinformation regarding this virus and there is no such Corona Virus outbreak in Kerala or India and it's normal. The Department of Health is fully equipped with diagnosis and treatment facilities to handle these.


What is the present situation of 3 students identified with Coronavirus?


The 3 cases reported are under detailed observation and treatment, and the Health Department has reported their conditions to be stable. They are kept in Special isolation wards, to avoid contact with other people, and all others who came from China are under home quarantine for 28 days.


Why has a State Calamity been declared in Kerala?


This is a proactive measure and the Department of Health's objective is to raise awareness and alertness among all and thus avoiding unnecessary panic. In all districts in Kerala, awareness centres and awareness classes have been intensified and thus declared a state calamity. Nothing to be afraid of. Everything is normal, secure and in complete control.


What about the Keralites returning to Kerala from China?


People who came from China are kept under home quarantine for 28 days, during which they have to stay at home and are not allowed to move around or attend functions. This is a proactive measure taken to avoid the spread of the virus. There are few under observation in hospitals too, so that they get a close observation. There is nothing to be worried about as the Health Department takes quick actions to resolve any panic conditions.

Who can tourists contact for authentic information regarding the Coronavirus in Kerala?

Here are some contact numbers for you just in case you need more information and official sources of data to plan your visit to Kerala.
Kerala Tourist Information
Toll-free number: 1-800-425-4747 (within India only)
Phone : + 91-471-2321132 Fax : + 91-471-2322279
Email: [email protected], [email protected]

Public Information Officer (PRO) Tel : + 91 471 2560436
The Health Department has coordinated awareness and alertness sessions to avoid unnecessary panic conditions.
Latest updates on Coronavirus in Kerala:
Kerala Government has withdrawn "state calamity status" as a sign of winning the fight against Coronavirus. All three students are under stable conditions and thus there exists no room for worries, reported the Health Department of Kerala. 
With the outbreak of Nipah in Kerala, the hospitals and its officials were given additional training and thus it helped in tackling emergency conditions at the earliest. The Health department formed 18 expert groups to monitor contact tracing, home quarantine, isolation, logistics, and training. They conducted frequent meetings and classes on giving information regarding Coronavirus and they were all prepared. And thus it is just because the Health department took earlier precautions in handling any worse conditions helped them to win the fight against this virus. 
Kerala's Health minister K.K Shailaja Teacher took the proper initiative in coordinating the hospitals and its officials. Kerala's Health Minister hopes that by the first week of March, the health department can declare Kerala as Coronavirus free state (by the end of 28 days incubation period).
In later weeks upon proper diagnosis one among the three students who were suspected to have Corona virus got discharged from the isolation wards, as the test results were negative. The other two students are also under stable conditions awaiting the test results to get discharged from the isolation wards.
From the above statements, it is clear that there's nothing to worry about the virus and it is safe to travel to Kerala. The currently infected people are the students who came from China to Kerala. Meanwhile, there is no wider spread of korona virus in Kerala state.
So, it is safe to have a Houseboat Trip in Alleppey. 
It is safe to ride an Alleppey houseboat or Kumarakom Houseboat while following Covid–19 protocols as the pandemic has not had a significant impact on the Kerala region. Tourists should practice social distancing, wear masks, and follow other safety protocols while on the boat.