Kerala Houseboat Cruise and Timings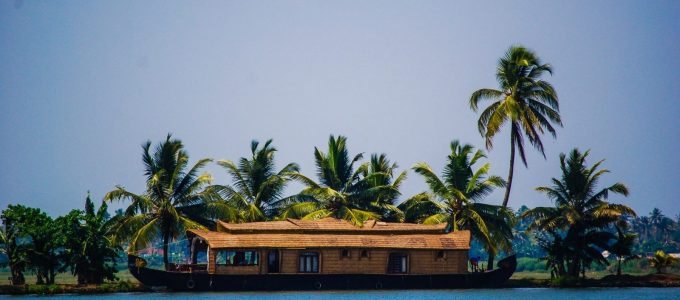 Kerala Houseboat Cruise & timings.

Two main types of Kerala Houseboat Packages Available.
Day Cruise
Overnight Houseboats
Check-in & Check out:
Overnight Stay – Alleppey Houseboat Timings: 
Check-in: 12 Noon
Checkout: 9 am
Day Cruise Houseboats:
Checkin: 11 am
Checkout : 5pm
Houseboat With Over Night Stay
The check-in time for boat houses in Kerala backwaters is 12.00 pm. And at the time of arrival, you will get a welcome drink and then lunch and dinner. Alleppey boat cruise offers Kerala style food, A must experience for your taste buds. The backwater cruise offers you a special dish called 'Karimeen'. Alleppey cruise tour starts at 1.00 pm and the boathouses in Kerala backwaters anchor down by 5.30 pm you can enjoy amazing vistas in the boat houses in Kerala backwaters, Alleppey style. If you want to enjoy this Alleppey cruise tour to the maximum, it is better to arrive by 12.00 Noon in Alleppey. It varies upon the selection of cruises in Kerala If you are arriving by 2.00 pm for the backwater cruise you are opting for a houseboat cruise on the same day by the time you reach the boarding point, the cruise will be over. The cruise boat would anchor and stay stationary.
Day Cruise :
Normal day cruises last for 5 hours with lunch and tea, served in the boat. Honeymooners, Family members, Students Group, Corporates, all can avail the day trips.
Check-in 11 am followed by a welcome drink. Checkout 5 pm. Lunch included.
Alleppey houseboat club has various types of boat cruises, 1-day cruises,multi-day cruises, etc. Alleppey Boat cruise offers various routes with various interiors and exteriors which guests experience via four routes offering different kinds of bliss and vistas through staying in boathouses in Kerala backwaters.
Alleppy-Round(Normal),
Alleppy-Kumarakom(Long),
Alleppy-Thottapally(More Sight Seeing),
Alleppy-Nedumudi and keep in mind that cruises is only in one route.
Boat houses in Kerala backwaters anchor their cruise boat by 5.30 pm. the back water cruise will come to a halt. Boathouses in Kerala offer the same experience which other places of accommodation offer to guests. Back water cruises offer various facilities like cable connection in you're boat cruise. Kerala river cruise and holidays are to be experienced at least once in a lifetime. the boathouses in Kerala backwater are a romantic getaway for many of our guests. Finally After checking out of the Alleppey cruise tour or the 1 day cruise, visit RKK( Ravi Karunakara Museum) before leaving Alleppey. Our guests come to experience the boathouses in Kerala backwaters every time they visit God's own because the backwater cruises in Alleppey have a different experience every time a guest books a houseboat cruise.
Every boat cruise has different interiors and fits the vibe which the guest expect when they cruise in Kerala. While you're on the Alleppey cruise tour, guests are offered a well-furnished kitchen, toilet and 1,2,3, or 4 bedrooms. There will be a driver, cook and a helper to manage your boathouse cruise. The interiors of 1-day cruises are different because they don't have beds and the cruise boat interiors vary from the demand of various Alleppey cruise tours.
There are three kinds of house boat tours available.
A/c Available only from 9pm to 6am
One is ac available only b/w 9 pm to 6 am,full time ac and non ac. Ask your travel agent which kind of ac is provided for you in your house boat. Be cool to select your choice. The charges will from 10000 to 27000 in peak season time.
Depending upon the quality of Alleppey cruise tour you select the rate may varies, where boat cruise start from *INR* 10,000/- ranging up to the quality of boat houses in Kerala backwaters